Kid goat with almond sauce
0 out of 5 stars (based on 0 reviews)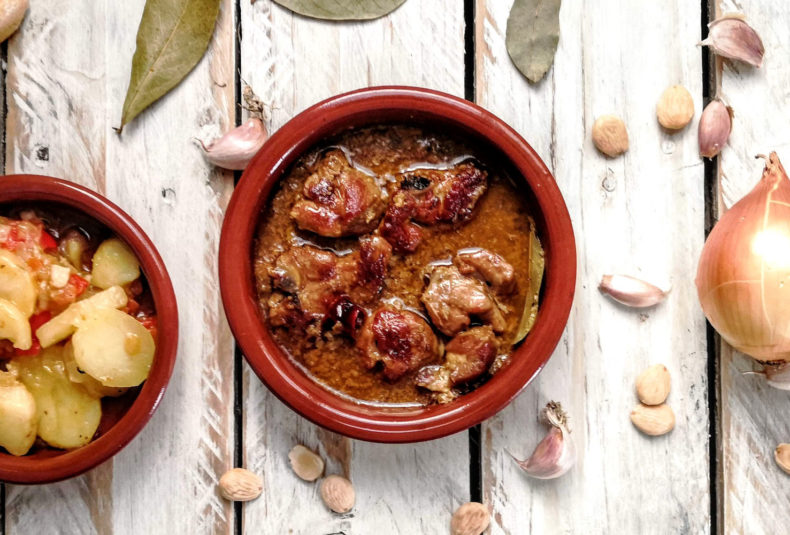 Ingredientes
1.5 Kg kid goat
80 g peeled almonds
1 slice bread (pan cateto)
6 cloves unpeeled garlic
1 glass dry white wine
3 cloves
1 Dried red pepper (optional)
black pepper
2 bay leaf
extra virgin olive oil
salt
There are various ways of thickening a sauce. The part of the world I come from the most popular thickener is white flour or grated potatoes and to be honest I have never fallen in love with either of those. Therefore I was really happy when I first tried the traditional Andalusian way of thickening a sauce with ground almonds.
The base of this method is always the "majaillo" which usually consist of ground fried almonds, garlic and sometimes soaked old bread and is prepared in a mortar. In this recipe, this lovely base of the sauce is combined with the top ingredient of malagan cuisine, the authentic malagan kid goat. It is definitely a festive meal although in some villages in Axarquía (Canillas del Aceituno, Arenas and Salares) you might find the dish regularly on the menu.
Instructions
Cut the meat into 5 cm large pieces, salt and pepper from all sides. Heat the oil over medium heat in a deep heavy pan (cover the bottom of the pan entirely with the oil) and fry the meat until brown together with the bay leaves. Add wine, stir well and let simmer for 40 minutes or until the meat gets tender.

While the meat is cooking start preparing the almond paste. In a small saucepan fry very lightly the seeded dried red pepper (you can replace it by adding 1 teaspoon of paprika to the mortar with all the ingredients) and put it in the mortar. Fry all the almonds carefully until light brown, the garlic cloves after hitting them before with the handle of the knife and chopped white bread. Peel the garlic and add everything to the mortar. Work the ingredients in the mortar until you get a smooth paste (you can substitute this by doing the paste in a blender).

When the meat is tender, add the paste to the pan, stir well and cook for another 30 minutes to blend the flavours. Add water if needed to obtain a thick sauce. Serve with patatas a lo pobre (potatoes braised with vegetable) and white bread.
Curiosity
Cada año, el último domingo del mes de abril se celebra en Canillas del Aceituno una de las fiestas más conocidas de toda la provincia de Málaga, "El Día de la Morcilla", donde se reparten más de 300 kilos de este producto, muy apreciado por su peculiar aliño y sabor.